Dietikon/Amsterdam 01.September 2017 – Jordi AG Communication, the Swiss-based system integrator and manufacturer, is introducing ADAM BOX at IBC 2017 – the newest version of its ADAM automated digital archive migration solution. ADAM BOX is a scalable solution for digitising professional video tapes in production, post-production or broadcast facilities, designed to suit the requirements of small to mid-range media facilities. Jordi AG Communication's archiving solution can be seen in action during IBC 2017 on the Rohde & Schwarz booth (7.E25).
Originally designed for large broadcasters, ADAM is now available in a mobile format –ADAM BOX– for small and medium-sized companies, such as regional broadcasters, production or post-production, as well as companies that offer video archive digitising as a service for short-term projects. ADAMhas been designed to migrate large quantities of broadcast-quality video tapes to a digital archive, autonomously and cost-effectively. The entire process is fully-automated, from the point of inserting the tape through to the final digitised product. The system uses standard software modules together with an industry-standard robot, ensuring reliable, high quality yet cost-effective digitisation.
ADAM BOX delivers proven results, with many major European broadcasters having successfully used ADAM for a number of years. These include SRG (Switzerland) since 2006, WDR mediagroup (Germany) since 2011, BR since 2015, plus MDR and SWR since 2016. As of today, ADAM has enabled broadcasters to digitise up to 700,000 hours of video assets.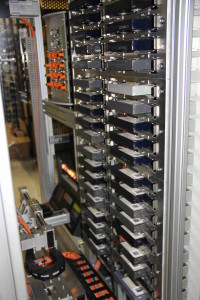 ADAM System Overview
Runs autonomously for up to 72 hours
5,000-40,000 hours of digitised video files per annum depending on solution size
Tape cleaning with Tape QC
Mastering server: Rohde & Schwarz Venice
Temporary storage: Rohde & Schwarz SpycerBox
Low-res transcoding and file QC
Handles most common professional file codecs
ADAM Advantages
Template-based workflows driven by imported metadata
Interfaces with existing third-party systems
Tried and tested with proven results
Scalable for regional broadcast or post-production facilities, digitising service provider to full-scale national broadcasters
For further information about the ADAM BOX system, please visit www.jordicom.ch/tv-media/adam.html or come to the Rohde & Schwarz booth (7.E25) at IBC. You can also get in touch via phone or email:
Jordi AG • T: +41 44 738 60 60 • E: info@jordicom.ch
About Jordi AG Communication
Jordi AG Communication was founded in 1970 and is among the leading Swiss system integrators for broadcast and media facilities. Jordi AG Communication focusses on system integration, consulting, innovation of products (hardware and software) and sales and rental of equipment for media production, as well as service and technical support. Jordi AG Communication is based in Dietikon in Switzerland. For more information, please visit www.jordicom.ch.